Guess Who's Back? Back Again?
Sunday, October 28, 2018
It has been so long since I've blogged that writing this feels a bit like the equivalent of Billy Butcherson coughing dust and moths in
Hocus Pocus
(side note: I recently learned that Doug Jones actually had moths in his mouth for that scene, and even though they were enclosed in a balloon-type thing, that has to take some serious dedication).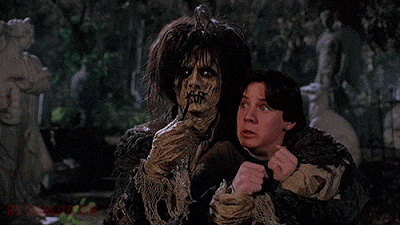 So I'm sorry for not updating for so long. It's been almost nine months, and there hasn't been a peep from me on here. It wasn't intentional. My depression ended up getting worse, and I kind of just stopped updating...and then even when it was better, I was just so busy that I didn't even really think about blogging. I feel ready to jump back in though, and a lot has happened in the past eight and a half months!
In case we aren't Facebook friends, or you don't follow me on
Instagram
or
Twitter
, here's a recap of what's been going on in my life!
In February, Jeffery got his first love note from a girl, Eric was Student of the Month for his class, and my depression, as previously mentioned, continued to get worse.
In March, I won HQ Trivia for the first time (and won $11.17 in a time when they were still only doing $2,500 per game!), started birth control to try to regulate my periods, and we celebrated Easter with my family!
In May, I realized that the birth control I was on was actually making things worse. They put me on Provera to stop the bleeding, and that didn't really help either. I ended up having a biopsy to make sure I didn't have endometrial cancer (I didn't, thankfully!). I also finally started taking medication for my depression and anxiety; I was put on Lexapro, and it's been extremely beneficial for me. Tom and I celebrated our seventh wedding anniversary, I accompanied Eric's class on a field trip to the Indianapolis Zoo, my preschool class graduated, I turned 30, and Archie turned 7!
In June, we took another trip to Disney World (we were actually on the tram at Hollywood Studios when I got my biopsy results back)! I was crazy enough to try going to all four parks in one day (it was a lot of fun, but it was a whirlwind!)! We drove to the coast on the way home so the boys could see the ocean for the first time :) Tom and I ran our charity wrestling show, the Dynamite Cup, for the second year in a row to raise money for an amazing foster care organization called Together We Rise.
In July, we celebrated Independence Day and had a lot of fun family adventures (including seeing Ant-Man and the Wasp at an IMAX theater, trying Portillo's for the first time, and checking out an amazing children's play center in Lake Station, IN, called Bellaboo's).
In August, the boys headed back to school (1st grade for Eric, and the last year of preschool for Jeffery). We celebrated a lot of birthdays: Egg's 4th, Jeffery's 5th, Tom's 31st, and Luna's 6th. Another big change for our family is that we started using essential oils in August! They have been absolutely life-changing for us, and I'm actually a bit upset at myself for waiting so long to take the plunge!
a cute little rectangle bat one of my students made
For now, I'm going to keep on working on myself, work on growing my essential oil business, work on keeping the chaos in my house to a minimum, and work on creating the happiest, healthiest life I can for myself and my family. And I plan to share that with you guys as I go :)